Recently, I visited the Dominican Republic on an Insight Trip with eight others and was deeply moved by the level of poverty we saw. As I ached for those who were desperately poor, my heart was rejoicing after meeting our loan recipient "clients" who now have the ability to provide for their families. I was uplifted even more after witnessing a weekly Trust Bank meeting where a group of 20 celebrated their newfound hope.
A typical first loan of a Trust Bank in the Dominican is $100. And yet that modest amount of money to us means a transformed life for a poor Dominican and their family. We came away with a better understanding of poverty, an appreciation of this proven way to help eliminate poverty and certainly a new perspective for all that we have here in the United States.
Now we are off to the other side of the world. The Philippines is one of our priorities. Our Partners there loaned nearly a third of the $63 million that we financed last year. Over the past several months, five of our Partners in the Philippines have consolidated to form the first transformational microfinance bank for the poor. On August 17, just three weeks ago, Opportunity Microfinance Bank opened its doors. What is happening in the Philippines is nothing short of remarkable! Along with Larry Reed, the CEO of Opportunity International Network,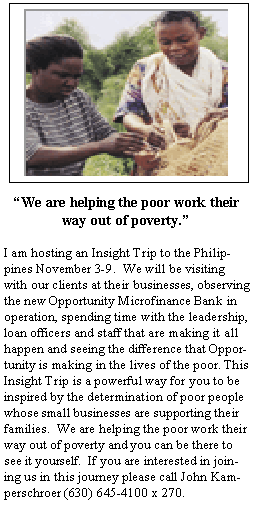 Athlete's in Action- Barney Insurance, Comstock Insurance, Madison Bates Insurance, and Greg Helland; Children of Promise- James Bower Insurance; Habitat for Humanity- Bailey Insurance, Donald Martin, Fidelity Insurance; ICM- C.D. West, Finney/Preferred Insurance, Johnson; Jesus Film- Doug Scott, James Greene, Nancy Bond; Opportunity International
- Harrington Hoch; Partners International- Gearheart; Salvation Army- Porter & Curtis, Thaxton Insurance Group; Walk Thru the Bible- American Insurance Marketing, Capitol Insurance, Gerald Crews Agency, Texas American; Word of Life Hungary- Allen Bentsen, Conner Agency, Fitts Agency, Gerald Crews Agency.