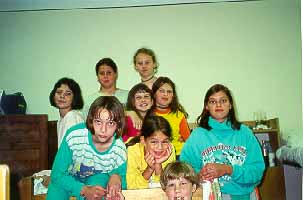 Thanks to the many agents across the country that has made the Christian Foundation the success that it is today. From California to New York and from Minnesota to Florida we are writing policies that have averaged a 21% loss ratio.
Currently we have written $2,000,000 in premium and have commitments of up to $15,000,000 by the end of 2000. Our goal is to write $100 million in premiums by 2005.
As we visit agents in various states we are determining the rates needed in each state to be competitive. We need to know what rates are needed in your state!
Meadowbrook, our fronting carrier is rolling out states with access to the Internet for quoting and issuing policies. Our service is fast and efficient!
Word of Life- Hungary is getting ready to start their summer camp program in a few weeks. They expect over 2000 kids to come to the camp this summer and most of them have not heard the gospel.
Athlete in Action has offered to have some of their athletes visit agencies and personally express the value of your support and what impact the Foundation will have on their ministry.